A reoccurring feature request I got was the ability to place visitors in a predetermined variant of a test through the use of query parameters in the URL.
This feature is great if you want to be able to have control over the variant of a test the visitor is placed in.
This feature is now available in A/B Testing for WordPress.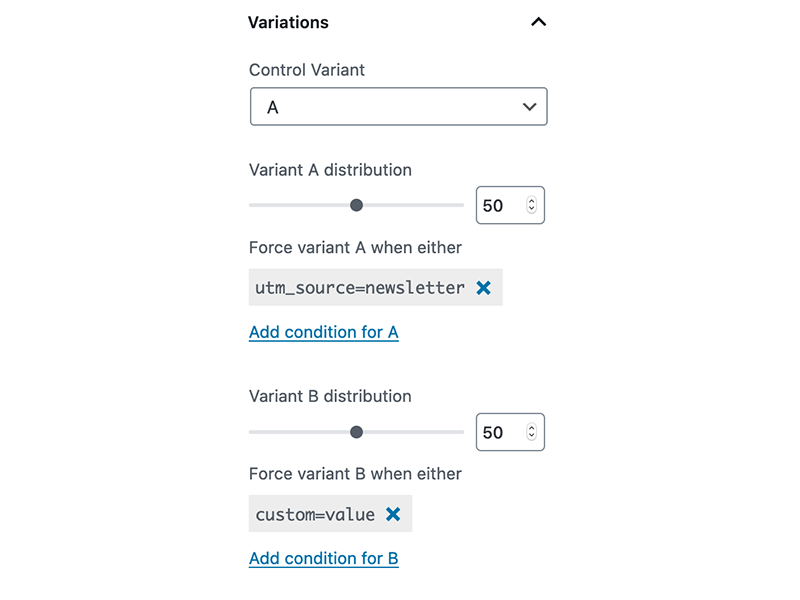 Placing visitors in a variant
When you go to a test's settings you'll find a new option to add conditions under variants.
Choose "add condition to A" to add a condition for variant A. Enter the key and value pair you want to force visitor into this variant.
Key value pairs look like this in the URL of a page: ?key=value&another=thing. Also known as query parameters.
Once a visitor lands on a page with your test and has the key value pair in their URL, they will be placed in said variant.
Integrates well with analytics and other marketing tools
For your convenience utm_source, utm_medium, and utm_campaign are added to be quickly added as conditions.
This way you can for instance show your newsletter readers a certain variant of a test and also keep track of it in your analytics tool by using utm_source=newsletter as a condition.
Upgrade now
Update A/B Testing for WordPress to 1.17.0 to get this new feature.